Its simple, once you switch to nitinol blades you will immediately be a better skater.
Nitinol blades are a new and improved scientifically engineered metal much superior to the current standard, and will enhance any skater's speed, agility and endurance.
Got a chance to skate on the Nitinol blades again Monday night. I was even more impressed than previously. I felt my first couple strides were a lot quicker than usual and the quick cornering was very evident. The glide was noticeable to me right away but certainly was more subtle than the cornering and stopping performance. The blades do not chatter when you stop. I believe you have something that works and would benefit hockey players at all levels.
— Former NHL skater
Just wanted to write quickly to let you know I finally got the blades on, and I am skating on them today….amazing! I definitely notice a difference with the speed and the cornering. I picked up speed comparable to the speed I had when training and competing in the Olympics.
— Gold medal Olympian
The first thing I noticed when I used the blades was the fact I felt much faster, my strides were smoother and took less effort to complete. I felt much more confident having the comfort of knowing I wouldn't loose an edge on a quick turn. The blades definitely improved my agility and overall movement on the ice. I love the blades and am looking forward to wearing them this season, thank you.
— USA Hockey National Team Development Program skater
The Nitinol blades definitely have a positive impact on my skating ability. The Nitinol allows superior turning, stopping, and acceleration. The difference is evident after taking just a few strides as the Nitinol cuts deeper into the ice which allows me to make sharper turns and transition much more quickly than when using the stock steel blades. My teammates even noticed the difference within 10 minutes of practice as you can see and hear the Nitinol cut through the ice (not too mention the sleek black coloring)–each stride looks and sounds more effective. I would choose the Nitinol blades over the stock steel blades any day of the week.
— Eastern Junior Hockey League player
I am one of the students that have used your newly developed blades this summer. I have skated more than twenty times with them, and I noticed a difference instantly. While it has been difficult to notice its continued benefits after adapting to them, I can say for certain that I felt totally different on the ice in the first few minutes that I used them. Also, I have not needed to sharpen them nearly as often which is a testament to the durability of the blade itself. Thank you for providing me with the sample pair.
— Division 1 Team Captain
As far as performance goes, I really liked wearing these blades. I felt that I was able to turn sharper and have a much better glide. I felt that the edge control was the biggest advantage that the blades gave me. From this, I started to sharpen my skates at a more shallow radius, and still had the edge control that I wanted, with an even better glide from each stride. Overall, I really enjoyed being able to wear them over the past season, and thought that they gave much better performance than a regular steel blade.
— Division 1 skater
As for the blades, I really like them. I noticed a difference the first time I used them. It was a little hard to feel a weight difference between my old blade and the Nitinol blade, but I did notice that the friction was reduced. I felt like I was skating on air and I also felt faster.
Finally, I played a lot of hockey this summer and I never had to get a skate sharpening which means the blades are very durable and tough.
— Division 1 skater
Wanted to let you know that I'm still loving the blades. I love the glide on the skate; it feels as if there is less friction against the ice. On another note, I think I'd want to use these blades next season. Do you think you could talk to Coach [], and organize getting me a new pair for this coming season?
— Division 1 skater
Case Study Conclusion
Nitinol blades showed an advantage of 2-5% in terms of skating speed.
Read Study
WHAT MAKES NITINOL BETTER?
Characteristics of the Alloy and Advantages of Nitinol Skate Blades.
High strength-to-weight ratio
Allows for a 14% lighter blade.
Provides tremendous strength.
Greatly reduces chatter when stopping.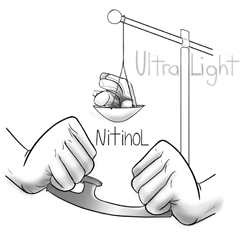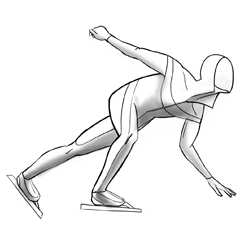 Flexibility
Provides greater control in turning—similar to shaped skis.
Allows blade to torque with the turn—a greater portion of the edge maintains contact with the ice.
Low coefficient of friction
Provides a faster skate blade.
Decreases skater fatigue.
Reduces drag allowing skaters to maintain their momentum.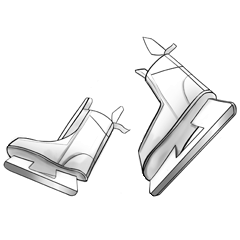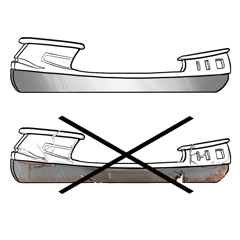 Erosion and corrosion resistance
Prohibits rust and corrosion
Provides greater durability—extending the life of the blade
Provides a longer-lasting edge that requires fewer sharpenings (6 times fewer)
Hardness and yield strength
Reduces the number of full-grind sharpenings which maintains the blade rocker profile.
Resists nicks due to contact with locker room debris, sticks and the nick will not propagate.
Reduces the hassle of dropping off and picking up skates for sharpenings at rinks or hockey shops.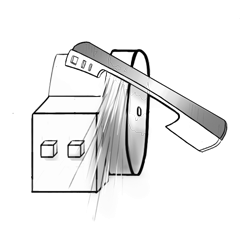 Get in touch with Nitinol
Phone: +1 (978) 828-1429
Email: susan@triumphsport.com
Hours: 
(Phone) 9 am - 7 pm EST